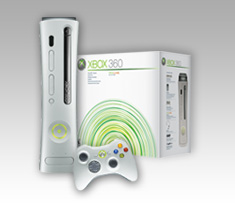 Accessories Reviews
The Xbox 360 has a number of additional extras out for it from launch. They consist of memory cards, wireless network adapter and more. While many users have not purchased many extras due to the 360 being quite expensive here in the UK at launch, we have been sent a large "Reviewers Kit" that contained most of the accessories released right now.
Wireless Network Adapter

Out of our reviewers kit the main item I really, really wanted to try was the Wireless Network Adapter. Having one of the Xbox 360 retail units up in my bedroom at the top of the house is a good way to test out the signal strength and quality of the signal when its going through walls. To start with I have a Belkin Pre-N Wireless Router setup downstairs, this gives off great signal to the computers around the house. I tried the 360 Wireless Network Adapter in the 360 downstairs first, it was easy to setup, you simply have to connect it to the back of the Xbox and plug it into the USB port right next door.
One I had entered the correct wireless network settings and security information into the Xbox 360, I was ready to go. The first thing I did was connect to Xbox Live, this worked flawlessly, I downloaded some demos and a number of trailers. My home broadband connection is 10MB, yet download speeds were far below this...I am not sure if this was the fact that the wireless connection doesn't allow high transfer speed or if Xbox Live! was just overloaded, but the most I was getting was around 200kbs no where near the 1mb per second I am used to on my main PC.
Taking the Xbox 360 upstairs, I lost a lot of signal, but this is to be expected considering the range of my wireless router. But don't let this put you off, I didn't have any problems playing games or downloading content on the 360 when further away, it ran very well.
Designed for versatility and ease, the Xbox 360 Wireless Networking Adapter enhances your Xbox 360 experience in the digital home, seamlessly synchronizing with the Xbox 360 system. You can easily transfer videos and music to your Xbox 360 system from your Media Center PC, chat with your friends, play games via Xbox Live, and more—all without the clutter of wires.
Dual band 5 GHz and 2.4 GHz Wireless A/B/G home network compatible
Compact, high-performance design
Powered by Xbox 360 to eliminate adapter clutter
Streams photos and music from Microsoft® Windows® XP and recorded TV, movies, and videos from your Microsoft Windows XP Media Center - based PC
Xbox 360 HEadset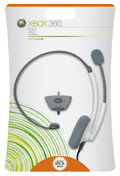 The new Xbox 360 headset is better quality than that which came out with the orignal Xbox Live! service, this one feels more comfortable, seemingly sounds better and also connects up to the Wireless Controller so you don't have to be all wired up to get it working. Yes you still look an idiot when wearing it, but we can't have everything. I tested it out by sending voice messages over Xbox Live! it picked up my voice well and you could clearly hear what I said. During games I also had no problems using the headset, it worked perfectly.
The Xbox 360 Headset heightens the experience of the unprecedented online gaming community, Xbox Live, allowing you to strategize with teammates, trash-talk opponents or just chat with friends while playing your favourite games. You can record and leave short voice messages for friends or family through the free Xbox Live Message Service or connect with buddies online using the headset in place of the phone.
Boom microphone can be adjusted for optimal sound quality.
In-line volume control and mute switch let users adjust the headset volume or switch mute on and off easily.
Noise-canceling microphone improves game response to voice commands, and provides crisp and clear voice communication.
Lightweight, over-the-head design enables comfortable use.
The headset plugs directly into either the Xbox 360 Controller or Xbox Wireless Controller for easy use.
Xbox 360 Component HD AV Cable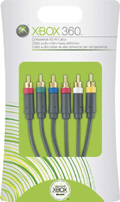 There is little doubt that anyone who is running an Xbox 360 on a High Definition capable machine won't already have invested in one of these, but we thought we should mention it simply because it doesn't come in the basic core pack. Yes we can argue that despite Microsoft touting the Xbox 360 as the first real High Definition machine they should have shipped with HDMI and DVI cables (they should have, there is no doubt), but the Component Video cables do the job well and the picture quality is almost as good as you would get from a HDMI cable
Showcase stunning Xbox 360 high definition graphics with the component connection on your HDTV. Play high quality audio with the included Stereo connection or utilize the Optical Audio port for digital sound. The 8' shielded cable also includes the more traditional Composite connections for use with standard definition TVs.
High-definition gaming output of 720p or 1080i
Progressive-scan DVD playback in 480p
Dolby® Digital 5.1 Surround Sound output
Component (Y,Pr,Pb) high-definition video output
8-foot-long shielded cable.
Xbox 360 Universal Media Remote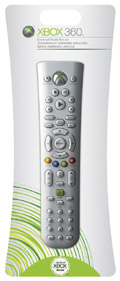 While the current Xbox 360 main packs are shipping with a limited edition basic Media Remote control, you can purchase the full sized Xbox 360 Universal Media Remote control. This remote has backlit keypad which is vital when watching or playing movies/games in the dark. It has full number pad buttons at the bottom compared to the smaller model too. It allows you to quickly get to the Xbox Gamer Guide, load up the Windows XP Media Center, navigate DVD's and turn your Xbox on and off. While its a great remote, my view is that if you already have the smaller model, you don't really need to pay out for the larger one, it isn't worth the money.
The Xbox 360 Universal Media Remote was engineered to serve as your integrated control centre for the entire Xbox 360 experience. Enter a new world of digital entertainment with the touch of a single button. Play DVD movies and music, plus control your TV and your Media Center PC with one controller. The centralised, glowing Xbox Guide Button gives you quick access to your digital movies, music, and games library, and backlit buttons make the keypad easy to see in a darkened home theater.
Power your Xbox 360 system on or off without leaving the couch.
The Xbox Guide Button allows for easy navigation of the Xbox Gamer Guide.
The Xbox 360 Universal Media Remote includes control buttons for your music, pictures, and more.
The Xbox 360 supports progressive-scan for DVD playback functionality, including a control for opening and closing the tray.
The remote supports universal TV and console functionality, including volume and mute buttons and up-and-down channel changing.
Windows® XP Media Center Edition Button and Media Center Edition functionality are featured.
A, B, X, and Y buttons are included for basic control of your Xbox 360 system, even without a controller.
Numbered and backlight keypad gives you full functionality, even in the dark.
Xbox 360 VGA HD AV Cable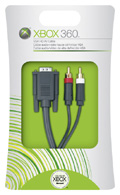 If you have a good PC Monitor then you can get the high definition buzz on there too. The VGA cable we were sent worked really well across a number of monitors that we tested it on, you get various resolution options to run with so just choose the one that best suits your screen. We do however recommend that you run it on a Widescreen monitor if possible as that is how all of the 360 games are coming now. One added bonus was the addition of Optical Output on the cable base, this is excellent for those who have advanced sound setups near their PC's. Still it's not DVI but still not bad.
Showcase stunning Xbox 360 high-definition graphics on your PC monitor or HDTV using the VGA input. Play high-quality audio with the included Stereo connection or utilize the Optical Audio port for digital sound.
DV-15S Standard VGA Connector
Video outputs settings of 480p, 720p, or 1080i
Dolby Digital 5.1 Surround Sound output
8-foot long shielded cable
Xbox 360 Wireless Controller

The Wireless Controllers are one of the main talking points that gamers have when discussing the Xbox 360, at first I was skeptical about how they would work as Wireless Controllers and Wireless stuff in general can be temperamental, I'm pleased to say that the 360 Wireless Controllers are excellent, I have sat quite a distance away from the 360 to test out the range and have also had items (legs too) in front of the 360 and I'm still able to play without any problems. They really are excellent both in feel and for signal. Be warned though, getting the Plug and Charge kits for these is a must as the AA batteries go quick.
High-performance wireless gaming is here! Using optimized technology, the Xbox 360 Wireless Controller lets you enjoy a 30-foot range and up to 40 hours of life on two AA batteries—and when they run low, you're given ample warning so you can connect a Play & Charge cable for uninterrupted play. Plug the Xbox 360 Headset into the controller for full duplex voice communication: a wireless first.
2.4GHz wireless technology with 30-foot range
Lag-free play
Integrated headset port for Xbox Live play
Adjustable vibration feedback for longer batter life
New left and right shoulder buttons are designed for ease of use.
The Xbox Guide Button at the center of the controller gives you quick access to all your favorite Xbox 360 system activities
Xbox 360 Plug and Charge Kit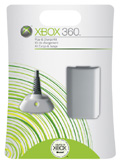 We received the Plug and Charge Kits for the Wireless Controllers in our reviewers kit, these are great little devices that can charge up your Wireless Controller by using a rechargeable battery pack that comes in the Plug and Charge package. You connect it up to one of the USB ports on the front of the Xbox 360 (assuming your back one has the Wireless Network Adapter) and just plug the controller into it when you have finished playing, it lights up red for charging and green for fully charged. I tend to do this in the evenings after playing games for a while as it can trickle charge the battery pack even when the Xbox 360 is off. An excellent buy for anyone with the Wireless Controller.
Recharge your Xbox 360 Wireless Controller while you play and kiss disposable batteries goodbye! Complete with a charging cable and rechargeable battery pack, the Xbox 360 Play and Charge Kit is all you need to juice up your Wireless Controller – even in the midst of battle.
Play & Charge Cable enables continuous game play
More than 30 hours of play per charge
Battery fuel guage through the Xbox 360 dashboard
Includes Play & Charge Cable and NiMH rechargeable battery pack

Return To The Xbox Section