ActiveXBox
Xbox News
DVD Compatibility Lists
Inside The Xbox
Xbox Released Titles
Xbox 360 Released Titles
Screenshots/Videos
History Of The Xbox
Links
Forum
Xbox FAQ
Xbox 360 FAQ



ActiveWin
Articles
AskAW
DirectX
ActiveDVD
ActiveMac
Forums
Interviews
News
MS Games & Hardware
Reviews
Support Center
Windows 2000
Windows Me
Windows Vista
Windows XP



News Centers
Windows/Microsoft
Apple/Mac
Hardware
Xbox
News Search



Windows XP
Introduction
System Requirements
Home Features
Pro Features
Upgrade Checklists
History
FAQ
Links
Tips



FAQ's
Windows Vista
Windows 98/98 SE
Windows 2000
Windows Me
Windows "Whistler" XP
Windows CE
Internet Explorer 6
Internet Explorer 5
Xbox
DirectX
DVD's



Tips & Tricks
Registry Tips
Windows 95/98
Windows 2000
Internet Explorer 4
Internet Explorer 5
Windows NT Tips
Program Tips
Easter Eggs
Hardware
DVD



ActiveDVD
DVD News
DVD Forum
Glossary
Tips
Articles
Reviews
News Archive
Links
Easter Eggs
Drivers
Movie Posters
Top DVD Sellers

DVD EXPRESS



Latest Reviews
Xbox/Games
Halo 3
Call of Juarez

Applications
Adobe Illustrator CS3

Hardware
Athlon 64 X2 6000+
Acer Ferrari 5000



Site News/Info
About This Site
Affiliates
ANet Forums
Contact Us
Default Home Page
Link To Us
Links

Member Pages
Site Search
Awards



Credits
©1997/2012, Active Network. All Rights Reserved.
Layout, Concept & Design by light tower Designer Dream. Content written by the Active Network team. Please click here for full terms of use and restrictions or read our Privacy Statement.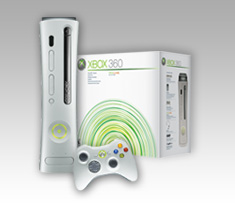 Conclusion
Byron's Final Verdict: There is no doubt at all in my mind that the Xbox 360 is a fantastic machine. Not only does it finally look good its also extremely powerful. The Guide is wonderful to use and for once I have to credit Microsoft for an excellent User Interface that is both easy to use and good looking, something that doesn't usually go together with Microsoft products. While I am still skeptical about the launch titles, I have to say that the Xbox Live! Arcade is where many of you will spend a lot of your time, its a great idea and being able to download demos finally is a godsend as trying before you buy is vital for those kind of games and you really can get hours of fun for very little money.
The High Definition graphics that the Xbox 360 produces are wonderful there is no doubt, games like Kameo, Call of Duty 2 and Project Gotham Racing 3 stunned me when I first ran them as I avoided some of the demo booths that have been hanging around stores recently. The one thing I will say is that I hope designers make more use of the 3 processors as some of the launch titles don't and it shows. We really are entering an age where photo realistic graphics in games is becoming a reality.
But not everything here is rosy, The power supply is massive, yes again people have mentioned it, but you have to see it to believe it and you can't really hide it away incase you block up the air vents and overheat it. I have, like others in forums, have had a number of in-game crashes and none of these were related to any form of overheating, simply trying to load the dashboard when quitting a game can sometimes lock it up. If Microsoft can fix these problems (I believe they are game problems and dashboard problems mostly) then you have got what is almost the perfect Media machine for the living room.
Brian's Final Verdict: After a review like this, there should be no doubt in your mind as to what the "360" in Xbox 360 means. And by now, one should assume as to what my verdict will be. Buy it if you don't have it. Play it if you got it. This console is NOTHING like you have seen on the market. It's very early in game development, and the games already look incredible. The game launch titles, while plentiful and abundant, isn't the best it could have been. I was hoping for more titles from Ubisoft personally, especially Ghost Recon Advanced Warfighter.
An excellent interface, great sound and graphics and a tight console make this console very impressive. Byron hit on quite a few of the same points I concur with. But, a perfect console it is not. I am finding that when playing a game, the DVD drive is loud. And louder than the old Xbox (of course my DVD that I put in my PC is very loud as well....I am curious if it's related to the high RPMs). Another small, but yet irritating, issue I have is the inability to listen to a CD while you are ripping it to the Xbox 360's HDD. I can do this in Windows Media Player, so why not on the 360?
I have had a bit more game time in than Byron as I got my Xbox a bit earlier, but I have not experienced the same problems as him. The issue I have run into twice now related to the internet connection. For whatever reason, my modem decides to cut my internet traffic off, requiring me to restart the modem. Each time I have been in the Xbox Guide, blade movement stopped both times the internet got disconnected. Restarting the modem and the 360 fixed the problem. But it sounds as if the guide is pretty tight with the connection. I am hoping to fix my modem, and hopefully others report issues similar to mine and we get this addressed via an Xbox Live update.
I have had the 360 for a week now, and I have about 30 hours of solid playtime on (including one 8 hour straight session). That is more time than I had ever put into my Atari 5200 the entire year I used it. If you are reading reviews to help you decide whether not to buy an Xbox 360, don't rely on this review. Look at the games and see if those are the game titles that interest you. The gaming is the most important part. If you see potential in the launch line up, as well as the other 140 games currently in development, then this review is for you.
| | |
| --- | --- |
| Byron's Gamertag | Brian's Gamertag |

Return To The Xbox Section