ActiveXBox
Xbox News
DVD Compatibility Lists
Inside The Xbox
Xbox Released Titles
Xbox 360 Released Titles
Screenshots/Videos
History Of The Xbox
Links
Forum
Xbox FAQ
Xbox 360 FAQ



ActiveWin
Articles
AskAW
DirectX
ActiveDVD
ActiveMac
Forums
Interviews
News
MS Games & Hardware
Reviews
Support Center
Windows 2000
Windows Me
Windows Vista
Windows XP



News Centers
Windows/Microsoft
Apple/Mac
Hardware
Xbox
News Search



Windows XP
Introduction
System Requirements
Home Features
Pro Features
Upgrade Checklists
History
FAQ
Links
Tips



FAQ's
Windows Vista
Windows 98/98 SE
Windows 2000
Windows Me
Windows "Whistler" XP
Windows CE
Internet Explorer 6
Internet Explorer 5
Xbox
DirectX
DVD's



Tips & Tricks
Registry Tips
Windows 95/98
Windows 2000
Internet Explorer 4
Internet Explorer 5
Windows NT Tips
Program Tips
Easter Eggs
Hardware
DVD



ActiveDVD
DVD News
DVD Forum
Glossary
Tips
Articles
Reviews
News Archive
Links
Easter Eggs
Drivers
Movie Posters
Top DVD Sellers

DVD EXPRESS



Latest Reviews
Xbox/Games
Halo 3
Call of Juarez

Applications
Adobe Illustrator CS3

Hardware
Athlon 64 X2 6000+
Acer Ferrari 5000



Site News/Info
About This Site
Affiliates
ANet Forums
Contact Us
Default Home Page
Link To Us
Links

Member Pages
Site Search
Awards



Credits
©1997/2012, Active Network. All Rights Reserved.
Layout, Concept & Design by light tower Designer Dream. Content written by the Active Network team. Please click here for full terms of use and restrictions or read our Privacy Statement.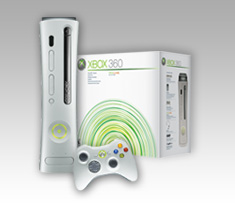 Setup & Install

Brian's Home System Setup

- Sony SS-MF500H Main / Stereo Speaker x 2

- Infinity BETA C250 Center

- Polk Audio Sub 200

- SpeakerCraft MT6 One Rear Surround x 2

- Sony FD Trinitron WEGA KV-36FS320 36" TV

- Sony FM 7.1 Surround Stereo/FM-AM Receiver
STR-DE998

- Xbox 360 NTSC Retail Unit

The package arrives, 17 pounds is the "shipped" package mass. Take away the brown shipping box, the packaging peanuts, the white Xbox 360 box, the Xbox 360 power supply (a.ka. brick), controller, remote, headphones, manuals, Xbox 360 sticker, wireless controller, ethernet cord, high definition component cables, 4 AA batteries and you are left with a 7 pound Xbox 360 console with a 20gb hard drive attached. All of the accessories are covered in plastic wearing the Xbox 360 theme colors, such as green and gray. It is my recommendation that you never ship an Xbox 360 in the existing packaging, as it is insufficient for the type of travel seen on the UPS/FedEx trucks.

Immediately after removing all of the plastic wrap, you will see Microsoft's consistent branding and marketing in each and every piece. The trademarked "Chill" white color is, well, awesome. I think they intentionally made the power supply look and feel as big as the original Xbox (maybe a little exaggeration, but not much). The limited edition Xbox 360 Media Remote is wrapped with 2 AA batteries, as is the wireless controller. For those eager to setup their Xbox without reading the manual, be sure to remove the plastic film from 3 locations. The remote control IR, the Xbox 360 Console's DVD/CD tray and the top of the HDD logo'd hard drive. (at the time of this writing, failure to remove the film from the DVD/CD tray has resulted in some problems for users). I too didn't notice the film, and the tray attempted to open, but I didn't encounter any problems as I responded immediately by removing the film. Nothing like the smell of brand new electronics...mmmm...mmmm.

Byron's Home System Setup

- Pioneer HD Upscaling Dolby 5.1 Surround Sound System

- Sharp Aquos 26" HD Ready TV

- Xbox 360 PAL Retail Unit

- Xbox 360 XDK Debug Unit

- Xbox 360 Reviewers Kit

Xbox 1 is moved to the den as I pull the old power cord, component cables and ethernet cord from my home theater. None of the cables, power cords, remotes and controllers will work with the new console. (Note my system setup listed in the box on the right). Microsoft continues with it's proprietary accessory offerings, even down to the power cord. Microsoft claims this is their way of capturing a profit to help recover on the losses generated by each console sold. Fair enough. There is no compromise on quality of these accessories and cables. Everything is solid, thick and connects with a reassuring "click". It's nearly impossible to connect anything improperly. I found that nothing needed to be changed in my TV or Receiver for the conversion to new. Those relying on digital sound through coaxial will be out of luck. Microsoft's component cables require Digital Optical connection (digital optical cable is sold separately and is not proprietary), which is bundled with the video/component cable.

Microsoft's Xbox 360 start up trailer flashes across the screen, with the sound passing through all 5 speakers. The receiver recognizes the Dolby Digital 5.1 surround as it lights up the lights on the receiver. We have audio and video. It sounds great, and it looks even better.

After closing the glass doors on the TV stand, silencing the Xbox 360, I sit back with my wireless controller and begin to absorb the quality of the UI presented to me as the first screen appears for the system setup.

Review Quote

"Realistically, and for the sake of arguments, Xbox 1 is smaller than the Xbox 360. But, when it comes down to it, nobody in this world really cares. It's about the gaming, the media and entertainment (and it still fits in most, if not all, entertainment centers)."

This is indeed Microsoft working behind the scenes. Setup reminds me of Windows setup. Prompted for time zone and other personal settings, I am immediately familiar with navigating the menu using a controller (you can also use the media remote that was included with the bundle). You will be able to choose your TV setup, such as the aspect ratio 4:3 or 16:9. You will also be prompted for audio setup, such as choices from Dolby Digital, Pro-Logic or monaural. By default, you will find Microsoft assumes you have Dolby Digital surround and a standard 4:3 TV screen. I accepted the defaults for my scenario. Note that if you have an HDTV, there is a switch on the actual component cable plug-in that you will need to switch to HDTV (it assumes non-HDTV by default). Doing so during installation will cause your Xbox 360 to restart, so I recommend making this change prior to setup, or post setup. If you happen to do so during setup, there is an option in the Xbox 360's dashboard to initialize factory setup again.

The final stages of setup will separate you from silver and gold. Xbox Live Silver and Gold that is. Be prepared to enter your Microsoft Passport (www.passport.com) to create a gamertag. If you are a current Xbox 1 Live subscriber, and you have already connected your Xbox Gamertag to your Passport (www.xbox.com/myxbox), Microsoft will seamlessly convert your Xbox 1 Live account to the new Xbox Live Gold membership. If you are connected to a broadband connection, and don't have a previous Xbox Live account, you will offered to purchase a subscription. If you are not interested paying for Gold member benefits, you will be prompted to join the Silver (free membership), and connect your Gamertag to your Passport. Don't worry, if you don't have a Passport, Microsoft will gladly walk you through the steps to do so right on your Xbox 360. How convenient huh?

After you have chosen your future of Xbox Live gaming, you press your green "A" button on the "OK", the next generation of gaming starts impressively with pizzazz. Enter the "Blades" of the Xbox 360 Dashboard.

PAL Specific

The PAL Xbox 360 is just as easy to setup as the American one, over here though we do get a larger selection of AV Cables due to the fact that our Televisions support, HDMI, Component Video, DVI, VGA , Composite, S-Video and finally RGB Scart. Firstly I setup the 360 to my main TV downstairs (A Toshiba 26" HD capable one), I connected it via the component video cables and straight away I was ready to go. The default setting for Component video the first time you attach it to a High Definition capable TV is 480p, you are then able to change this to 720p or 1080i dependant on what your TV is capable of.

As I have already mentioned, we also have SCART over here, this is better than S-Video quality, but lower than Component Video, its kind of an in-between and is not high-definition compatible but it does give the best possible picture on a TV that can only support RGB SCART and nothing better. When running your Xbox 360 on RGB SCART you will notice some improvement over the original Xbox's graphics, but it won't grab you half as much as it would do on a full High-Definition screen.

Return To The Xbox Section