ActiveXBox
Xbox News
DVD Compatibility Lists
Inside The Xbox
Xbox Released Titles
Xbox 360 Released Titles
Screenshots/Videos
History Of The Xbox
Links
Forum
Xbox FAQ
Xbox 360 FAQ



ActiveWin
Articles
AskAW
DirectX
ActiveDVD
ActiveMac
Forums
Interviews
News
MS Games & Hardware
Reviews
Support Center
Windows 2000
Windows Me
Windows Vista
Windows XP



News Centers
Windows/Microsoft
Apple/Mac
Hardware
Xbox
News Search



Windows XP
Introduction
System Requirements
Home Features
Pro Features
Upgrade Checklists
History
FAQ
Links
Tips



FAQ's
Windows Vista
Windows 98/98 SE
Windows 2000
Windows Me
Windows "Whistler" XP
Windows CE
Internet Explorer 6
Internet Explorer 5
Xbox
DirectX
DVD's



Tips & Tricks
Registry Tips
Windows 95/98
Windows 2000
Internet Explorer 4
Internet Explorer 5
Windows NT Tips
Program Tips
Easter Eggs
Hardware
DVD



ActiveDVD
DVD News
DVD Forum
Glossary
Tips
Articles
Reviews
News Archive
Links
Easter Eggs
Drivers
Movie Posters
Top DVD Sellers

DVD EXPRESS



Latest Reviews
Xbox/Games
Halo 3
Call of Juarez

Applications
Adobe Illustrator CS3

Hardware
Athlon 64 X2 6000+
Acer Ferrari 5000



Site News/Info
About This Site
Affiliates
ANet Forums
Contact Us
Default Home Page
Link To Us
Links

Member Pages
Site Search
Awards



Credits
©1997/2012, Active Network. All Rights Reserved.
Layout, Concept & Design by light tower Designer Dream. Content written by the Active Network team. Please click here for full terms of use and restrictions or read our Privacy Statement.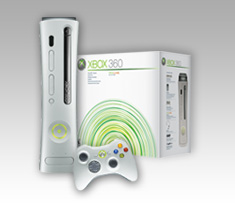 Windows Media Connect & The Media Center Extender
Not everyone will use every feature of every new electronic appliance that debuts from year to year. I personally have not even touched the majority of the features and options available in my new Sony receiver. Is it because one is lazy? Or is it the presentation of the features? Or maybe it's just plain complicated. The Xbox 360 will not be an exception. There are many features available that many gamers won't even bother with. One of the big selling points of the Xbox 360 is its media functionality.
The Xbox 360 is the next generation of gaming. It will also be your DVD player (5.1 Dolby Digital Surround with progressive scan), your CD player, and digital music player (mp3 and wma files). But it doesn't stop there. If you are one of the more hard core or computer literate gamers, you will find that networking your Xbox 360 presents you with a whole new world of choices.
You can now stream music and photos from your Windows XP home computer to your Xbox 360. Upon installation of a required file called Windows Media Connect onto your Windows XP pc, the Xbox 360 will gladly connect to your pc and search for your hard drive and the folders on them for music and pictures (such as digital images). When you access your Media blade on your Xbox 360 dashboard, you will now be presented with a library of images and digital music that is contained on your hard drive.
For the music, you will find that all track titles, genres, artists and album choices are available for filtering through your music. Proper categorization is only possible if you had previously ripped your CD music to your Windows XP hard drive. In addition, metadata for each track/cd must have been added or downloaded from the internet in order for it to appear in the Xbox 360 menus. You will be able to select and save customized playlists, reduce/increase the volume, skip tracks and even shuffle your selections or playlists. Be prepared to enjoy what appears to be an unlimited number of visualizations, demonstrating the beat of your favorite tunes for your next soiree. The designers of the interface were courteous enough to give you the option to turn off this feature, or even present it as a full screen on your TV for your big swarees. You can take full control over the environment using your limited edition media remote or your Xbox 360 controller. Everything works as expected. My single biggest complaint would be the lack of choosing information alphabetically without having the full edition remote control. And for those never happy with the sound tracks included with their favorite games, all one has to do is press on the guide button on their wireless controller, and they will be given the option to choose their own music to stream to their games from their pc. Or even better yet, hook up your Rio, Muvo or iPod. Even connect your PSP (Playstation Portable). Using one of the 3 built in USB ports (two in front, 1 in back), you can stream music or photos to your Xbox 360. You can either just sit back and relax to your favorites from your iPod, or get in deep with your game and a custom soundtrack streaming from your Rio. Instant custom soundtracks. You can choose the music from your hard drive as I just mentioned or even music that you rip to your Xbox 360's hard drive.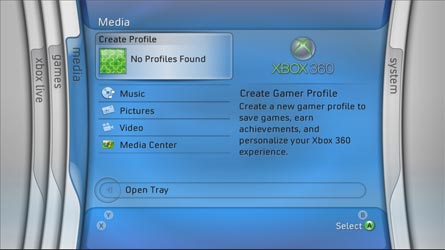 The Xbox 360 will easily take advantage of your home theater system with digital playback from your pc. While jamming to some tunes, you can slap up some photos and a slide show as well. Using the same Media blade, the pictures tab will give you thumbnail images of the pictures you have on the shared folders on your hard drive of your pc. If you are familiar with Windows XP, you will see the images are shown in a "folder" view, making this an easy transition. In my scenario, all of my shared folders were instantly shown, including any text I had associated with the images, such as the file name of each photo. Using your imagination, you can combine the images with music playback from your PC to your 360 for some great personalized events and entertainment at your home.
In my tests, I used a Muvo for streaming music to the Xbox 360 during my PGR3 tournament. No need to load drivers or software. Instant recognition and playback. I even took my Sony Cybershot Digital Camera and presented those photos to my wife and son. Even though she was impressed, she did state "I don't want to know how you did that".
With no testing under my belt, and no videos loaded (I deleted the Titanic video included on the Hard Drive with the Xbox 360), the Media blade will allow you to also view any videos that you have downloaded onto the Hard Drive from the Xbox Live Marketplace. This allows you to fast forward, rewind and pause just like the ever popular DVR/PVR's.
The last item on this blade are pretty darn slick. It's called the Media Center. The lengthy name is actually Windows Media Center Extender. For those of you who have a home PC running Windows XP Media Center Edition 2005, you are in luck. The Xbox 360 is actually a full fledged Media Center Extender. For those who are unfamiliar with the Media Center and Media Center Extenders, there are countless sites, blogs and review dedicated to this great home entertainment operating system. If you have a Media Center PC, the Xbox 360 acts as an "extender" in that it "extends" the functionality of your PC to your living room, giving you that "10 foot" experience.
In a nut shell, the Media Center Extender expands upon the previous media tabs in many ways. It allows you to do the picture slideshows and music. But, the Media Center Extender adds the ability to stream video from your PC, including HDTV recorded video. The 360 will also act as a PVR/DVR, allowing you to pause, fast forward, rewind and record live TV. And not surprisingly, if you are an instant message hound, you can use the Windows Messenger on your 360 for chats with your friends online. Most difficult however, is typing with a remote. The limited edition remote included with the 360 doesn't have a numeric/alpha keypad. The full Media Center remote, sold separately for the Xbox 360, does have the required keypad. I am fortunate enough to still have my remote from my Xbox 1 Media Center Extender, which works with the new Xbox. Enter the "Spotlight", and you can stream live music and video from the internet as well. While the entire networking of MCE with Xbox 360 is supported in a wireless environment, I highly recommend solid, good ol' fashioned Ethernet connections, especially watching streamed HDTV.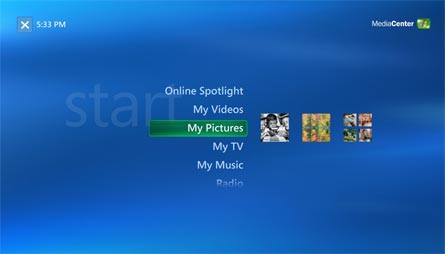 Review Quote
"The Xbox 360 is the next generation of gaming. It will also be your DVD player (5.1 Dolby Digital Surround with progressive scan), your CD player, and digital music player (mp3 and wma files). But it doesn't stop there. If you are one of the more hard core or computer literate gamers, you will find that networking your Xbox 360 presents you with a whole new world of choices."
And a little side note for those using an Media Center keyboard from Microsoft. The keyboard is NOT fully compatible with Extenders. The actual alpha keys and built in mouse are rendered useless. But any of the MCE keys, including the Media Center "Green" button, work just fine. I find it a real bummer as I frequently instant message, and I spend quite a bit of time in the living room with family as well.
Those who are familiar with the Xbox 1 and the Media Center Extender Kit, you will be very impressed with the new extender. This is the true extender, as seen in the retail extender products offered by HP and Linksys. The software is actually loaded onto the Xbox 360 console this time around, offering you full Media Center PC functionality, visuals and most importantly, speed.
Connecting your Xbox 360 to your Media Center PC requires the latest updates from Windows Update (http://www.windowsupdate.com. There is a Windows Media Center Roll Up 2 pack and Roll Up 2 pack update patch. In addition, once the update is complete you will need to install one additional utility, which is free and available from http://www.xbox.com/pcsetup. This is the Xbox 360 Media Center Extender connection utility that will bring your entire home entertainment system together.
The setup utility will present you with an interface that resembles the Xbox Dashboard Blade interface, so you will be instantly familiar with the look. Prompting you for your preferred folder locations, a "key" or "code" (which you will see appear on your TV automatically), and a few other items, the process will finish painlessly. At the end, your Xbox 360 and PC will communicate behind the scenes for awhile, building up your library of photos and music.
The amount of time it takes to build up your library of music and photos will of course depend on your library size. In a comparison, the Xbox 1 took upwards of 45 minutes to catalog my library of 600 music CDs. The Xbox 360 did it in about 10 minutes. On a reassuring note, anytime you add to your library on your PC, the Media Center will automatically update your Xbox 360 with the new content behind the scenes.
If you are a media fanatic like me, this is your chance to get connected. If you don't have a Media Center PC, now is your time to get one. If you have never been interested in the whole "Media Hub" in your living room until now, you won't regret spending the time and money setting up the future of your home entertainment using your new generation game console.
PAL Specific
While this little piece I am writing isn't really PAL specific, it does contain my personal views on the Media Center Extender and how it connects to your network. I have two media center computers in my house, one of which has TV setup on it and is based high up in the house. I had no problems setting up the 360 Media Extender on either Media PC or on the Xbox 360 itself, getting the Media Center Extender to run well on the 360 was another matter, although the blame here cannot really be put on Microsoft or the 360, but is an important thing to note.
I use a Wireless connection for my 360 and for my Media Center PC that I am using to connect it to, this isn't the best way of doing things when transferring large photos, video and TV around the wireless airways. To get the best out of the 360 Media Center Extender you really must have either a direct Ethernet connection or a good (almost perfect) wireless signal on both you Media Center and on your Xbox 360, I didn't and running the extender was the most painful of tasks, just a basic photo took over a minute to load and the menus were a nightmare to navigate around. If you are fine running wired connections around your house (the best and most secure way to network still) then you'll have a fantastic media center, if you don't then you may be stuck with a great, but useless extender device.

Return To The Xbox Section