DirectX
ActiveMac
Downloads
Forums
Interviews
News
MS Games & Hardware
Reviews
Support Center
Windows 2000
Windows Me
Windows Server 2003
Windows Vista
Windows XP



News Centers
Windows/Microsoft
DVD
Apple/Mac
Xbox
News Search



ActiveXBox
Xbox News
Box Shots
Inside The Xbox
Released Titles
Announced Titles
Screenshots/Videos
History Of The Xbox
Links
Forum
FAQ



Windows XP
Introduction
System Requirements
Home Features
Pro Features
Upgrade Checklists
History
FAQ
Links
TopTechTips



FAQ's
Windows Vista
Windows 98/98 SE
Windows 2000
Windows Me
Windows Server 2002
Windows "Whistler" XP
Windows CE
Internet Explorer 6
Internet Explorer 5
Xbox
Xbox 360
DirectX
DVD's



TopTechTips
Registry Tips
Windows 95/98
Windows 2000
Internet Explorer 5
Program Tips
Easter Eggs
Hardware
DVD



ActiveDVD
DVD News
DVD Forum
Glossary
Tips
Articles
Reviews
News Archive
Links
Drivers



Latest Reviews
Xbox/Games
Fallout 3

Applications
Windows Server 2008 R2
Windows 7

Hardware
iPod Touch 32GB



Latest Interviews
Steve Ballmer
Jim Allchin



Site News/Info
About This Site
Affiliates
Contact Us
Default Home Page
Link To Us
Links

News Archive
Site Search
Awards



Credits
©1997-2012, Active Network, Inc. All Rights Reserved.
Please click here for full terms of use and restrictions or read our Light Tower Privacy Statement.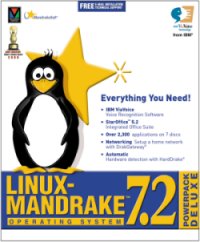 Product: Linux-Mandrake 7.2 PowerPack Deluxe
Company: MandrakeSoft Inc.
Website: http://www.linux-mandrake.com/en/
Estimated Street Price: free to download (GPL) or $69.95 for the boxed version
Review By: Benjamin Wolman & Julien Jay
Graphical User Interface
The Graphical Interface of Linux is much more elaborated than the Windows' one. Indeed, instead of having only one system dedicated interface, Linux Mandrake offers several various ones. The most well known are Kde (version 2.0) & Gnome (version 1.2). More over, each interface supports themes pack you can download on various websites so you're sure to have the desktop of your dreams.
The most interesting aspect of Linux at the interface level is with no doubt the virtual desktop system; that you can also have under BeOS or under Windows (using some special shareware or freeware). The concept of virtual desktops is simple: you can switch at any time from a desktop to another (you can use up to 16 different ones). That way you can stretch your work and see all the running applications all the time, without the need to reduce or maximize windows. The gain is real and it's difficult to avoid using it once you tried it.
You'll also find in Linux the old good explorer that lets you browse your hard disk folders easily. A wide number of icons like 'Cut', 'Copy' 'Paste', 'My Documents', 'Back', 'Next', etc. have the same characteristics asunder Microsoft Windows: migrating from an OS to the other iseasier!
To simplify things further, MandrakeSoft added to its distribution very practical software called SuperMount. As you surely know, under Linux, you have to manually mount at the boot your disks (with the use of a command line) but that's not all since you also have to unmount them when you wanna exit your session. With supermount, the ordeal is at least over! Supermounge mounts every unit on your system (hard disk, CD/DVD drives, floppy drive, etc.) while the system is booting and unmounts these units when you exit the system. So with a simple click you can read a CD-Rom: the time saving is considerable and new users will be delighted to know they won't have to type any command line.
The different interfaces don't ressemble each other by their design, but by their concept. In a few minutes you'll find back with no problem your marks because the gap between the Windows GUI & the linux one isn't too deep.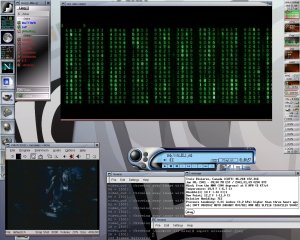 Some more shots for your viewing pleasure