DirectX
ActiveMac
Downloads
Forums
Interviews
News
MS Games & Hardware
Reviews
Support Center
Windows 2000
Windows Me
Windows Server 2003
Windows Vista
Windows XP



News Centers
Windows/Microsoft
DVD
Apple/Mac
Xbox
News Search



ActiveXBox
Xbox News
Box Shots
Inside The Xbox
Released Titles
Announced Titles
Screenshots/Videos
History Of The Xbox
Links
Forum
FAQ



Windows XP
Introduction
System Requirements
Home Features
Pro Features
Upgrade Checklists
History
FAQ
Links
TopTechTips



FAQ's
Windows Vista
Windows 98/98 SE
Windows 2000
Windows Me
Windows Server 2002
Windows "Whistler" XP
Windows CE
Internet Explorer 6
Internet Explorer 5
Xbox
Xbox 360
DirectX
DVD's



TopTechTips
Registry Tips
Windows 95/98
Windows 2000
Internet Explorer 5
Program Tips
Easter Eggs
Hardware
DVD



ActiveDVD
DVD News
DVD Forum
Glossary
Tips
Articles
Reviews
News Archive
Links
Drivers



Latest Reviews
Xbox/Games
Fallout 3

Applications
Windows Server 2008 R2
Windows 7

Hardware
iPod Touch 32GB



Latest Interviews
Steve Ballmer
Jim Allchin



Site News/Info
About This Site
Affiliates
Contact Us
Default Home Page
Link To Us
Links

News Archive
Site Search
Awards



Credits
©1997-2012, Active Network, Inc. All Rights Reserved.
Please click here for full terms of use and restrictions or read our Light Tower Privacy Statement.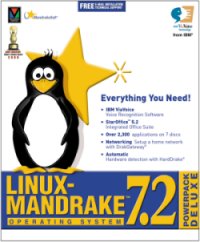 Product: Linux-Mandrake 7.2 PowerPack Deluxe
Company: MandrakeSoft Inc.
Website: http://www.linux-mandrake.com/en/
Estimated Street Price: free to download (GPL) or $69.95 for the boxed version
Review By: Benjamin Wolman & Julien Jay
Introduction
Since the ActiveWin.Com inception no Linux software was ever tested. Indeed our site is primarily dedicated to the Microsoft world, and so it doesnít cover Linux. However there's a growing anti-Microsoft feeling, which we don't share at all, and Linux is surely its best competitor. Thatís why we have decided to review and test Mandrake Deluxe 7.2 what we consider to be one of the best compromises between the ease of use of Windows and the several advantages of Linux. Linux is a free and open source operating system, everyone can tweak, change, and modify to best fit his or her need. However this liberty has some limits since the main drawback of Linux is that it remains hard to use. Thatís where MandrakeSoft focused their efforts to bridge the gap in the 7.2 Mandrake distribution between the unrivalled Windows Millennium ease of use & the unprecedented power of Linux. This new release 7.2 has been thought to simplify further our hard lives. Is that true? Thatís what weíll see in this review.
New features of Linux Mandrake 7.2:
Simplified DrakX graphical installation

Easy partitioning with DiskDrake, integrated to the installation process.

Improved auto detection of your hardware with HardDrake (new release)

Laptop profiles and synchronisation management with DrakProfile and DrakSync

Microsoft Windows font back up with DrakFont

New printing system: more efficient and user-friendly : CUPS /QtCUPS

Surf the web and exchange email with Netscape Communicator 4.75 (with Plugin Flash4), Konqueror and KMail

Watch videos with RealPlayer

Online chat with Everybuddy (AOL, ICQ , Yahoo and MSN compatible)

DrakNet - a new Internet connection assistant supports dial-up modems, DSL, ISDN and Cable

Internet connection sharing assistant with DrakGateway

Development :

C, C++, Perl, Python, Java, ...

Qt Designer: integrated development environment

Glade: graphical environment for creating applications

Web Development :

Apache 1.3.12: the best web server

PHP 4.02: powerful scripting language

Perl - CGI - PHPNuke (community management system)

Servers :

GroupWare: PHPGroupware

Mail delivery: IMAP, POP3 and SMTP

Directories: LDAP, Yellow Pages (NIS)

Instant messaging platform: Jabber

Databases :

PostgreSQL 7.0.2

MySQL 3.23

Interbase 6.01

Video: New drivers for i810, GeForce, GeForce II, many others.

Automatic 3D hardware acceleration for:

Matrox G200/G400

Voodoo III/V/Banshee

Intel i810 & i815

ATI Rage 128 / Pro, 3D Rage XL/XC, 3D Rage LT, others.

Linux-Mandrake 7.2 contains the latest KDE2 including KOffice and also the latest version of GNOME 1.2.

If you are looking for fast success in Braindumps exams then join today to explore complete Pass4sure 642-447 resources and pass Testking 642-732 certification on first try. A person can chose Actualtests 648-375 & ACCA training for his easiness.