DirectX
ActiveMac
Downloads
Forums
Interviews
News
MS Games & Hardware
Reviews
Support Center
Windows 2000
Windows Me
Windows Server 2003
Windows Vista
Windows XP



News Centers
Windows/Microsoft
DVD
Apple/Mac
Xbox
News Search



ActiveXBox
Xbox News
Box Shots
Inside The Xbox
Released Titles
Announced Titles
Screenshots/Videos
History Of The Xbox
Links
Forum
FAQ



Windows XP
Introduction
System Requirements
Home Features
Pro Features
Upgrade Checklists
History
FAQ
Links
TopTechTips



FAQ's
Windows Vista
Windows 98/98 SE
Windows 2000
Windows Me
Windows Server 2002
Windows "Whistler" XP
Windows CE
Internet Explorer 6
Internet Explorer 5
Xbox
Xbox 360
DirectX
DVD's



TopTechTips
Registry Tips
Windows 95/98
Windows 2000
Internet Explorer 5
Program Tips
Easter Eggs
Hardware
DVD



ActiveDVD
DVD News
DVD Forum
Glossary
Tips
Articles
Reviews
News Archive
Links
Drivers



Latest Reviews
Xbox/Games
Fallout 3

Applications
Windows Server 2008 R2
Windows 7

Hardware
iPod Touch 32GB



Latest Interviews
Steve Ballmer
Jim Allchin



Site News/Info
About This Site
Affiliates
Contact Us
Default Home Page
Link To Us
Links

News Archive
Site Search
Awards



Credits
©1997-2012, Active Network, Inc. All Rights Reserved.
Please click here for full terms of use and restrictions or read our Light Tower Privacy Statement.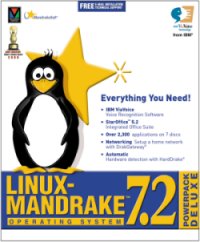 Product: Linux-Mandrake 7.2 PowerPack Deluxe
Company: MandrakeSoft Inc.
Website: http://www.linux-mandrake.com/en/
Estimated Street Price: free to download (GPL) or $69.95 for the boxed version
Review By: Benjamin Wolman & Julien Jay
System Requirements & Setup
To enjoy the benefits of Mandrake 7.2 the minimum configuration isnít very heavy: you need at least a Pentium or compatible processor, 32 MB of Ram, 300 MB of free space on your hard disk, a VESA compatible video card and a CD drive. Reading this list you may think almost everyone can use Linux-Mandrake, even those of you who arenít able to achieve a 150fps rate in Quake 3! However we strongly recommend you to use Mandrake on a Pentium 200 MHz system (at least!) with not less than 64 MB of Ram to be able to use the system in good conditions. More, despite all the efforts made in this domain, itís better to check that your hardware is compatible with Mandrake before you start installing it (check it here: http://www.linux-mandrake.com/en/fhard.php3). Thus my old Adaptec 1502P SCSI card (still on ISA port) wasnít detected correctly so I wasnít able to use my scanner under Linux.
We will only approach here the classical installation of the system. Mandrake 7.2 is provided with the Linux4win utility that lets you use Linux on a Windows partition (fat16 or fat32) without the need to reformat it to the specific Linux EXT2 format. If this sounds good it requires a powerful computer. The installation of Linux4win is very easy and you only have to read on screen instructions! The main advantage of Linux4win is obviously the fact you donít need to format your hard disk (which can quickly become a nightmare for Linux new byes) but you might loss all your data if you have to reinstall Windows.
Once you have started your system from the bootable Mandrake CD (or from the boot floppy disk you can create from Microsoft Windows), youíll discover a nice & user friendly graphical interface called DrakX. This interface will guide you step by step during the setup of Linux Mandrake. No command line has to be typed, you just have to click, click and click! Youíll thus choose the language you want Linux to use (Mandrake is provided with an incredible number of various languages!), configure your mouse & keyboard (only if this units arenít properly detected which is rare), configure your Internet connection, etc. You shouldnít encounter any trouble: the menu, displayed on the left part of the screen, tells you which step of the setup youíre in (depending on the starís color). Moreover an accurate help is available for each step of the setup process so youíre sure to achieve this normally hard & daunting task, fingers in the nose.
However be careful to the kind of setup choose! Donít select the Expert mode if you have never installed Linux before. In the same way another step of the setup will require all of your attention: itís the one where youíll have to choose the partition to install Linux. Indeed if you erase the Microsoft Windows partition accidentally youíll loose all your personal files, etc. The last touchy step of the setup is the packages one! Indeed Linux Mandrake lets you choose which components should be installed but the list is almost never-ending and choosing components can quickly become a long quest. So itís preferable to let the default settings or to install everything if you have a large hard disk. During the setup youíll also be prompted to choose workstation, development or server mode so Mandrake can install automatically the packages thatíll match the use of your computer.
As a general rule, if youíve never installed Linux before, we recommend that you let on default all the settings offered by the setup. Donít forget either to read the very accurate & complete installation guide provided by Mandrake.
Now that youíve launched the setup you can go away for shopping, read the newspaper, phone to your friends, do the dishes, watch TV, etc. since the setup is very long and will generaly complete in at least 1 hour. Once itís completed youíll be congratulated (for waiting so long? Or for correctly installing Linux? The story doesnít say!) and youíll have to restart your computer to start using Mandrake.