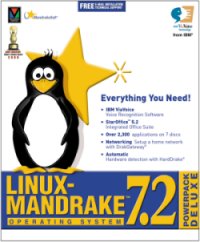 Product: Linux-Mandrake 7.2 PowerPack Deluxe
Company: MandrakeSoft Inc.
Website: http://www.linux-mandrake.com/en/
Estimated Street Price: free to download (GPL) or $69.95 for the boxed version
Review By: Benjamin Wolman & Julien Jay
Software & Gaming
Linux Mandrake Deluxe 7.2 is composed by not less than four CDS full up of any kind of software. If you install all the packages, you wonít be surprised to see the incredible number of available software. Thereís at least three per domain and the names arenít all unknown.
Obviously donít hope to make your Windowsí software run directly under Linux, they wonít be recognized. However with practice youíll be able to use an emulator (the most accomplished one is Wine) to launch Windows software (only if Windows is installed on your computer) directly from Linux and it works (well letís say most of the time!)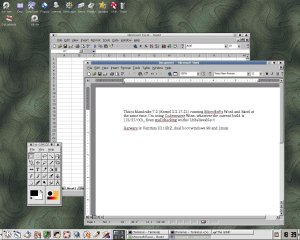 Microsoft Word running under Linux using Wine
At the productivity level, two office suites are offered: the famous StarOffice 5.2 from Sun MicroSystems and Koffice, the official KDE graphical interface suite. For absolute compatibility with Microsoft Office, itís preferable to use StarOffice. However Koffice is more stable and pleasant to use while approaching at the same time the Microsoft Office look a feel and not the StarOffice one, which can be only a good point! Obviously you can realize the dreams with both suites: word processor, spreadsheet, vectorial drawing, slideshow creator, etc.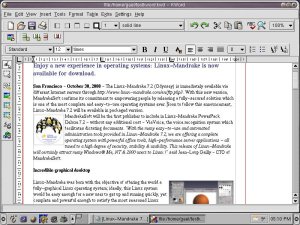 KWrite
For surfing the web, youíll have to choose between the Netscape Navigator 4.7 mammoth (you can download for free the release 6 but itís not included in the distribution) or Keplorer. If Netscape is more powerful than Kexplorer it consumes a lot of system resources too. However both of these browsers donít match the unprecedented website compatibility offered by Microsoft Internet Explorer 5.5.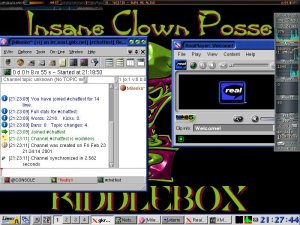 RealPlayer
Youíll also find email managing programs, like Kmail, newgroups readers, instant messaging tool, multimedia oriented software (MP3 player, DivX, etc.) as well as the well-known Gimp that helps you producing high quality touched-up pictures (itís often compared to Adobe Photoshop even if the functions arrangement is strongly different). But the four principal new things are surely the inclusion of the Real Player 7 & Adobe Acrobat 4 software that we donít present anymore as well as Blender (a 3D software) and IBM ViaVoice! That way every task you can usually accomplish under Windows is equally feasible under Linux without out the need to download anything since the most used software are already bundled in the Linux Mandrake Deluxe box!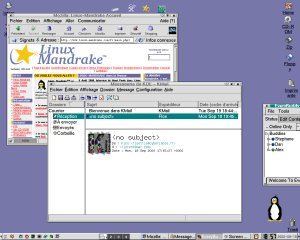 Netscape & KMail for Linux
Concerning video games the deal is different. Most recent games are developed only for the Microsoft Windows 9x platform (and Windows 2000, XP, etc.). That obviously implies a few number of Linux dedicated games. So if you plan to play with your computer, be sure to let on one partition Microsoft Windows Millennium in order to install your various video games. However Linux isnít totally virgin at the game level. Itís possible to find Linux versions of Quake 3, Doom or Civilisation Call-to-Power. A wide number of small games also exist under Linux but they arenít worth of Diablo II or other StarCraft. Having said that, anyway youíll be glad to find card games!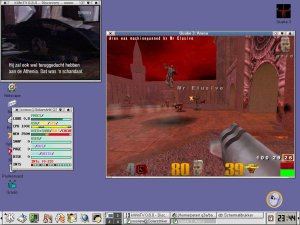 Quake III
Nonetheless with a little will, itís absolutely possible to emulate Windows from Linux so you can launch & play with your favorite games under Linux! The results is far from being bad but itís better to launch the game directly from Windows to get better performance, etc.