DirectX
ActiveMac
Downloads
Forums
Interviews
News
MS Games & Hardware
Reviews
Support Center
Windows 2000
Windows Me
Windows Server 2003
Windows Vista
Windows XP



News Centers
Windows/Microsoft
DVD
Apple/Mac
Xbox
News Search



ActiveXBox
Xbox News
Box Shots
Inside The Xbox
Released Titles
Announced Titles
Screenshots/Videos
History Of The Xbox
Links
Forum
FAQ



Windows XP
Introduction
System Requirements
Home Features
Pro Features
Upgrade Checklists
History
FAQ
Links
TopTechTips



FAQ's
Windows Vista
Windows 98/98 SE
Windows 2000
Windows Me
Windows Server 2002
Windows "Whistler" XP
Windows CE
Internet Explorer 6
Internet Explorer 5
Xbox
Xbox 360
DirectX
DVD's



TopTechTips
Registry Tips
Windows 95/98
Windows 2000
Internet Explorer 5
Program Tips
Easter Eggs
Hardware
DVD



ActiveDVD
DVD News
DVD Forum
Glossary
Tips
Articles
Reviews
News Archive
Links
Drivers



Latest Reviews
Xbox/Games
Fallout 3

Applications
Windows Server 2008 R2
Windows 7

Hardware
iPod Touch 32GB



Latest Interviews
Steve Ballmer
Jim Allchin



Site News/Info
About This Site
Affiliates
Contact Us
Default Home Page
Link To Us
Links

News Archive
Site Search
Awards



Credits
©1997-2012, Active Network, Inc. All Rights Reserved.
Please click here for full terms of use and restrictions or read our Light Tower Privacy Statement.





Client Interface
Microsoft has given tremendous support for Exchange from a client perspective. One of Microsoft's main goals is to have a completely ubiquitous corporate environment. The first step toward achieving this is to create clients applications for their messaging system that allow end-users access to the server no matter where they are. We will cover a set of these client applications, and also see how they interact with Exchange.
Outlook – So many versions, 97, 98, 2000, 2002… What should you pick?

Outlook Express – Bundled with Internet Explorer

Outlook Web Access – Got UNIX?

Outlook for the Pocket PC – On the road again…
Outlook
Microsoft Outlook is the preferred client for Exchange Server in a business environment. Outlook is a MAPI compliant messaging client. Outlook, if set up in "MAPI-mode" communicates with Exchange server using RPC's. What are RPC's you ask? Well, RPC stands for Remote Procedure Call and it is essentially where the client application makes requests on a server for data, but nothing resides on the client machine. Exchange Server holds all messaging information in the information store databases and, if Outlook is set up in MAPI mode, the end user sees a visual representation of what is actually on the server. When a user clicks on an email message in their inbox, or an appointment in their calendar, a Call is sent Remotely to the server to retrieve that piece of information. If modifications are made, they are done in memory on the client machine and are then uploaded to the server.
There have been so many changes to Outlook since the 97 version that was bundled with Office 97 and also with Exchange 5.5. Outlook 97 gave you basic MAPI integration with Exchange server. Outlook 97 gave you advanced calendaring, contact management and email functionality. Outlook 97 also supported POP3 and SMTP for clients that wanted to use Outlook from their homes.
Outlook 98 was an amazing enhancement over Outlook 97. I remember when 98 came out; I was the Network Administrator for an offshore company and had just picked up the role of Exchange Administrator. With Outlook 97, you had full control of your email, but 98 cave you the ability to browse the internet with its integration with IE 4.0. You could also manage Junk email; the Folder List bar was enhanced, Outlook Today was added as a good way of being able to see, from one window, what you have coming up not only for the day you were currently on, but over the next few days as well. Outlook 98 supported POP3, SMTP, IMAP4, LDAP, NNTP, HTML and S/MIME. If you decide to use Outlook 97 with Office 97, install Outlook 98 instead. Outlook 97 works perfectly with Office 97 and, as long as you have client access licenses for Exchange, Outlook 98 is free.
Outlook 2000 had added integration with Internet Explorer as well as better integration with the rest of the Office products. Outlook 2000 came with Office 2000 and was also bundled with Exchange 2000, but you could also get it from Microsoft for free as long as you had the CAL's for Exchange server. I would suggest using Outlook 2000 on machines that didn't have the Office 97 suite on them.
Outlook 2002 added even more integration with Office. Outlook 2002 comes with Office XP and is also shipped if you order the service pack 1 CD for Exchange 2000. If you would like more information on Outlook 2002, Julien and Byron did a very good review here on ActiveWin. Go to www.activewin.com and select the Office XP review.
Outlook Express
Outlook Express comes bundled with Internet Explorer. Outlook Express provides you with the same functionality as its bigger brother Outlook, but the express version can not do calendaring, tasks and journaling. It can access newsgroups, which is a feature missing from Outlook. Outlook Express supports LDAP, POP3, IMAP4, SMTP, HTTP and NNTP. If you want to download mail from your mail server, Outlook Express can do it for you. If you want to connect to Public folders, simply set up an IMAP profile and connect away. It even interfaces with your MSN messenger. If you want to view your Hotmail folders or newsgroups, it can be done all with the convenient price of $0.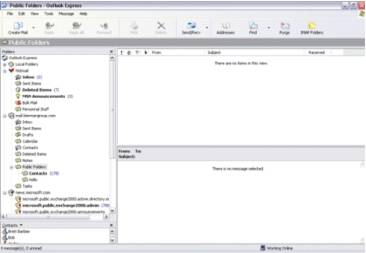 Outlook Web Access
Outlook Web Access, or OWA, for Exchange 2000 is the web-based interface. If you have clients using UNIX or LINUX, then you could access Exchange using this as your client. You could use any POP3 or IMAP4 application to access your email, but to get full calendaring, task and public folder support, use OWA. OWA is also ideal in situations where users are away from the office and need to check their office email or calendar and can not set up a POP3 or IMAP account.
OWA for Exchange 2000 uses a combination of XML and WebDAV as the access method for Exchange. Exchange 5.5's implementation of OWA utilized strictly ASP pages from the client to the IIS server; the IIS server would open a MAPI connection to the Exchange server. As calls would be made to the IIS server from the client, IIS would forward those to the Exchange server. If you were to look in the address bar as different items were returned to the client, you'd see something similar to http://mail.company.com/exchange/000sdjs3jdx.asp. OWA 2000 would display http://mail.company.com/exchange/jdoe/inbox/test.eml in the address bar. This makes it easier for you to switch between folders in the web browser because you can simply type http://mail.company.com/exchange/jdoe/calendar to switch to your calendar and http://mail.yourcompany.com/exchange/jdoe/tasks to go to your tasks.
The interface has been greatly improved as well. It almost looks exactly like Outlook 2000, if you are accessing it using Internet Explorer 5.0 or higher. OWA for Exchange 2000 gives you the ability to send email messages, even record an audio or video message in the browser and send it as an email message, with the installation of a special multimedia ActiveX control. To install the control, open OWA, click Options from the left navigation bar and click the button to install the multimedia control.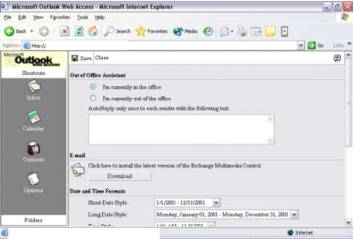 Another noticeable new feature is the ability to format the font of your messages inside the browser window. You can center the text, use bullets, almost any kind of formatting. I like this feature, the only thing is, to use it, you must use IE 5.0 or higher. Netscape = No formatting.
The last nice feature of OWA that I am going to discuss is the change password function. If you go to Options, you are given the ability to change your password for the domain. As a matter of fact, if your company has put time limits on your network password, OWA will notify you when you check your email with an informational message and even tell you how many days you have left to change your password before it expires. You can then go to options and click the change password button and it's done. This is very nice if you are away from the office. This feature was available in Exchange 5.5.
Outlook for the Pocket PC
Outlook for the Pocket PC is amazing. I am sure that there are different options available for different Pocket PC's. (Actually I don't know because I only used one that I could borrow from a friend, but it was interesting.) They don't actually have Outlook on them individually on them per se, but they have the individual modules available. (Calendar, Contacts, Inbox, Notes and Tasks) These all synchronize with your desktop version of Outlook and you can select what you specifically want downloaded from them. This is to prevent your email from overloading the memory on your Pocket PC. The ActiveSync software that Microsoft supplies with the Pocket PC gives you the ability to control specific synchronization settings for each Outlook module to conserve space on the Pocket PC, except Notes, because they can not really get any smaller.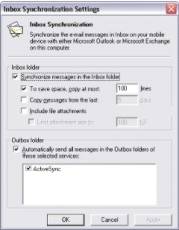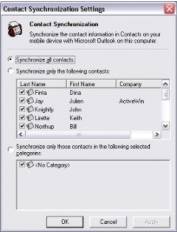 Inbox Synchronization settings Contact Synchronization Settings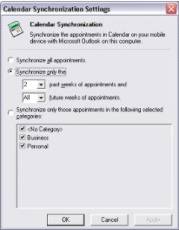 Calendar Synchronization Settings
With the Inbox on the Pocket PC that I tested, you can set up IMAP or POP mail accounts to download your email if you have an internet connectivity method. You can use each module on the Pocket PC as you would in Outlook, watered down of course.
Helpful Knowledge Base Articles
Q171231 - How to Move Your Personal Folders File to a Network Server (If a user comes in one morning and says that all of their mail has suddenly disappeared from his or her mailbox; nine times out of ten, this is because they downloaded their mail to their home PC. To fix this, get their computer from home, find the PST file on their home PC and follow the directions in this article.)

Q259378 - Unable to Log On to a New Mailbox the First Time You Use Outlook Web Access

Q267596 - How to Change OWA Passwords Through IIS

Q241091 - 404 - File Not Found Error Message When You Try to Delete a Message Using OWA

Q242239 - Recurring All Day Events Do Not Show Up Correctly in OWA Calendar

Q247731 - "The Page Cannot Be Found" Error Message Logging On to Outlook Web Access

Q249431 - Client-based Rules Are Not Available in Outlook Web Access

Q249446 - Cannot Specify a Location When Creating a New Folder

Q249457 - Outlook Web Access Does Not Allow Comma as Address Separator