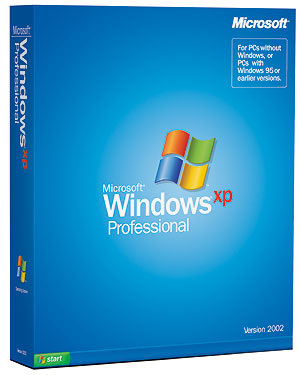 Games & Gaming
A good operating system is nothing without some fun games. Windows XP doesnít depart from the rule and a whole set of games has been included into the box! First the beloved Solitaire has a major update since cards now display cool new backgrounds. FreeCell is basically the same apart that you can now choose between one million combinations (instead of only 32000 before). The old Pinball game of Plus 95 is also included in Windows XP! So when youíre boss is not there youíll be able to play to this fun game! The Minesweeper is still included.
Spider? If you hate spiders and web, donít be afraid by the name of this card game. Microsoft Windows XP includes the ĎSpider Solitaireí game that was originally first released in Microsoft Plus! 98. The game now offers three levels of difficulty and is really a challenge!
Like Windows Me, Windows XP includes several multiplayer internet oriented games: indeed users can start a reversi game and play over the net through the MSN GameZone with computer or human opponents. It is funny even if during a game players cannot exchange customized messages: they can only choose predefined sentences in a list. A chat feature would be appreciated! If various online games are available thereís still no chess game.
Windows XP includes a new game controller applet. From there you can change controller settings (like controller ID's) but you can also test your game devices to make sure they properly respond.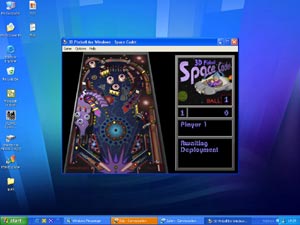 Microsoft Windows XP Pinball (click to enlarge)
We have the RTM of Windows XP for some time now so we have tested many games with the operating system and we didnít encounter any major problems. Most of the games we have tried worked properly with the system: Midtown Madness 2, MechWarrior 4, MechCommander 2, The Simís Living Large, The Simís House Party, Red Alert 2, No One Lives Forever, Quake III Arena, Age Of Empires I & II, Crimson Skies, Black & White, and SimCity 3000, etc. In fact the most astonishing thing is that games like Need For Speed 3, Outwars that refused to work with Windows 2000 now work great with Windows XP. Windows XP comes with DirectX 8.1 so you can enjoy the ultimate gaming experience while being sure your games will exploit the latest 3D video and sound features. However some games like ChampionShip Manager 3, Unreal Tournament, Counter Strike (the game crashes one time on two when exiting) donít work well with the new operating system. The well known simulation game, RollerCoaster Tycoon requires you to manually install a patch so the game can work with XP, while RailRoad Tycoon II comes up with an 'Not NT compatible issue'. Caesar III is incompatible with Windows XP. EA sports titles seem to be very touchy since for many people editions below 2002 (like Fifa 2001) donít work at all. We also regret that the excellent Starwars Pod Racer doesn't work under Windows XP. Despite those compatibility issues, it's clear Microsoft made a great job ensuring the most common games work with its latest baby: for games that have issues with Windows XP, their makers now have to fix them in patches.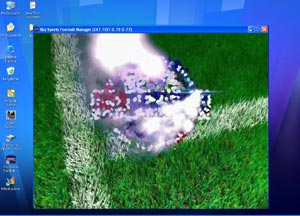 Sports Football Manager (click to enlarge)
The standard Windows applets have been somewhat enhanced such as notepad that now displays text with the font of your choice along with a new status bar. Microsoft Paint features a new command in the file menu so you can capture images coming from Twain devices directly from the software. It also offers some basic features to rotate, stretch images at your convenience as well as the ability to define an image youíre working on as wallpaper.
Accessibility
Since the release of Windows 95 Microsoft has done its best to improve the accessibility of computers to disabled people. The new Windows XP offers great features to help disabled people. It includes a magnifier (to zoom your text), a visual keyboard (each time you push a key this key appears on the screen, you can also use a virtual keyboard on the screen with just your mouse), a narrator that will read you all the texts contained in a window and finally a wizard to customize the font size of the texts and the colors of the screen to adapt it to the needs of disabled people.
Applications Compatibility
During months of testing Microsoft conducted external and internal tests to make sure Windows XP was compatible with the widest number of applications. Thousands of applications have been tested worldwide! The result is that despite a full 32 bit core, Windows XP is compatible with many more applications than Windows 2000 or Windows NT 4.0 could have ever been. Apart from antivirus, disk utilities and burning software (Easy CD Creator) every other software will operate smoothly under this new OS. For very old applications that may not work as expected with Windows XP, Microsoft has added a compatibility tab to the shortcut properties dialog box. That way you can ask Windows XP to emulate the Windows 95/98 or Windows NT 4.0 environment to cheat the application so it can work. Thatís great since most of the time this will make recalcitrant applications work.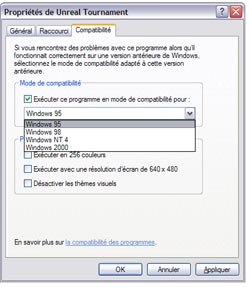 Application Compatibility Tab (click to enlarge)
Multilingual User Interface (MUI)
Microsoft is releasing MultiLanguage packs for Windows XP Professional English Edition. With this additional component, the operating system allows users to change the language of the user interface, choosing from any one of 24 languages. Menus, help files and dialog boxes can be switched to, for example: Japanese, French, Italian, or Swedish. Plus, users can create, edit, and print documents in hundreds of different languages. Users can change the interface language by simply selecting the Control Panel and then Regional Options. A drop-down box lists the languages available.