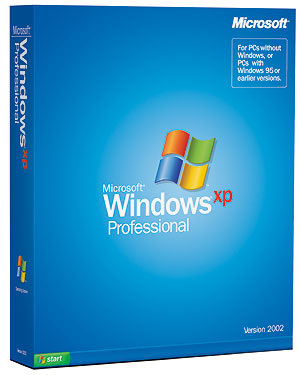 Setup
As usual there are two ways to install the brand new Windows XP: clean install or upgrade. Weíll detail both install methods below. However before you opt to buy and put Windows XP on your computer (and whether you choose to perform an upgrade or clean install) your PC should meet some severe requirements. Microsoft claims Windows XP can turn on PCs with a 233 MHz CPU and 64 MB of RAM with 1.5 GB of free hard disk space. In reality Windows XP requires a Pentium II 300 MHz and at least 128 MB of RAM to achieve descent performance.
Itís my guess, many family users will choose to upgrade their Windows 98, Windows Me systems to XP in order to avoid the pain of formatting. First you have to know thereís no way to upgrade Windows 95 and definitely not Windows 3.1 systems. Only Windows 98, 98 SE, and Me systems can be upgraded to Windows XP. Windows NT 4.0 and Windows 2000 Professional can only be upgraded to Windows XP Professional edition.
Users who have previously migrated from Windows 98 to Windows 2000 know that the upgrade process can turn out to be a disaster due to compatibility issues, etc. To upgrade a Windows 9x system to Windows XP both operating systems should use the same language (you cannot upgrade an English Windows to Windows XP French). To avoid upgrade headaches, Microsoft has created the upgrade advisor tool: this utility will check your actual Windows 9x system and list every installed application and hardware drivers that are known to present problems with Windows XP. Once the analysis is done, the wizard will show a complete report suggesting you to remove some obsolete programs that wonít work with Windows XP (like antivirus, file utilities, etc). Itíll also inform you that some drivers may have to be reinstalled after the upgrade process. Once youíre done with the wizardís recommendations you can proceed with the setup.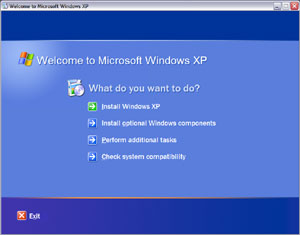 Microsoft Windows XP CD Autoplay (click to enlarge)
When you upgrade or install Windows XP as a secondary operating system on your machine you can run the setup directly from Windows. In this case, youíll discover a very nice setup interface with a wizard thatíll guide you through the first various steps. The windows phase of the setup will ask you what kind of install you want to perform (upgrade or clean) and will collect some information (your name and your Product Key). During this phase you can also change some settings: like the languages of input devices, partitioning options and more. Then setup can automatically update itself over the Internet so you are able to install the latest hot fixes, patches or service packs with Windows XP. After this setup will copy a few files and automatically restart the computer to continue with the installation.
Now the real setup begins and every XP file will be copied, components registered, and drivers installed, etc. This last step takes approximately 35 minutes to complete depending on your computerís speed. When itís finished the computer will be restarted one last time and Windows XP will start and be ready to use. Windows XP is definitely smart: after an upgrade if some software are known to be not fully compatible with XP when you launch them youíll receive an error message. But best of all, for some software like PowerDVD 3.0 Windows XP will direct you to a webpage to download the XP compatibility patch so the software can work correctly!
During our upgrade tests a few applications were to remove like Norton SystemWorks 2001 and Norton Internet Security 2001. The Compaq DVD player was declared out of order by XP and a few drivers have to be reinstalled (like the ones of the Alcatel SpeedTouch ADSL USB modem). All in all the upgrade was a breeze since no major problems have been encountered.
The clean install is the best way to deploy a stable and uncorrupted system. Many IT or power users will choose this solution. However power users know how long and painful is to reconfigure Windows after a clean install. Changing the desktop, background theme, mouse cursor, sound scheme, and re-adding Internet favorites and more takes a lot of time. Thankfully Microsoft offers the ultimate solution to save time when installing a fresh version of windows. The Windows XP CD contains an awesome ĎFiles and Settings Transfer Wizardí utility. Just like in Office XP, itíll collect the actual settings of your Windows installation, save them into a safe place, and after the format and the new Windows XP install itíll be able to recover every setting you have saved. The utility runs under Windows 95, 98, 98SE, Me, NT 4.0 and 2000.
Not only can the wizard can save application settings but it can also save files (e.g. email databases) and reinstalls them later so youíre sure to painlessly find your usual working environment after a fresh install. The wizard is customizable and you can choose what kind of application settings and files you want to save before migrating. Once the ďsettings backupĒ is done and Windows XP is reinstalled you can import the settings very easily running the same wizard. Itís just an awesome option to save precious time and reduce frustration created by the migration process.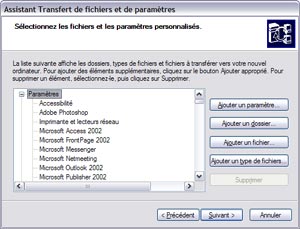 Files & Settings Transfer Wizard (click to enlarge)
The clean install setup of Windows XP has nothing extraordinary over the Windows 2000 one. After the hard disk is formatted you can boot the computer with the XP CD inside so the DOS setup will start instantly or you can boot the PC manually and launch the setup from XPís CD. The DOS phase of the setup prompts you to accept the license agreement and offers you to format in FAT or NTFS existing partitions before copying a whole set of files. Windows XP supports both the FAT32 and the NTFS 5.1 file system. Once the copy is over the PC will be restarted and the setup will display a graphic interface where youíll be prompted to enter your name and your CD-key before being able to change some settings. Then the setup will copy other files, register components, detect hardware and install drivers before finally rebooting the PC. This second step is generally done in 40 minutes. Once itís finished the PC will be rebooted one last time and a ready to be used Windows XP Operating System will be loaded.