DirectX
ActiveMac
Downloads
Forums
Interviews
News
MS Games & Hardware
Reviews
Support Center
Windows 2000
Windows Me
Windows Server 2003
Windows Vista
Windows XP



News Centers
Windows/Microsoft
DVD
Apple/Mac
Xbox
News Search



ActiveXBox
Xbox News
Box Shots
Inside The Xbox
Released Titles
Announced Titles
Screenshots/Videos
History Of The Xbox
Links
Forum
FAQ



Windows XP
Introduction
System Requirements
Home Features
Pro Features
Upgrade Checklists
History
FAQ
Links
TopTechTips



FAQ's
Windows Vista
Windows 98/98 SE
Windows 2000
Windows Me
Windows Server 2002
Windows "Whistler" XP
Windows CE
Internet Explorer 6
Internet Explorer 5
Xbox
Xbox 360
DirectX
DVD's



TopTechTips
Registry Tips
Windows 95/98
Windows 2000
Internet Explorer 5
Program Tips
Easter Eggs
Hardware
DVD



ActiveDVD
DVD News
DVD Forum
Glossary
Tips
Articles
Reviews
News Archive
Links
Drivers



Latest Reviews
Xbox/Games
Fallout 3

Applications
Windows Server 2008 R2
Windows 7

Hardware
iPod Touch 32GB



Latest Interviews
Steve Ballmer
Jim Allchin



Site News/Info
About This Site
Affiliates
Contact Us
Default Home Page
Link To Us
Links

News Archive
Site Search
Awards



Credits
©1997-2012, Active Network, Inc. All Rights Reserved.
Please click here for full terms of use and restrictions or read our Light Tower Privacy Statement.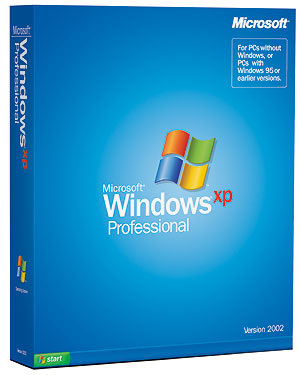 MSN Explorer
Microsoft Windows XP includes MSN Explorer 6.1. MSN Explorer is a browser specially customized for MSN services designed to offer users a friendly and convenient web browser that clearly targets new byes. With an attractive interface, an integrated easy to use email client, and the integration of every web services offered by MSN, Bob Visse (a MSN product manager) was clearly right to state a while back: "This product is like AOL's worst nightmare. We beat them at being easiest to get online, which is something they've had a claim to."
The start panel of Windows XP offers a MSN Explorer shortcut so you can fire up the software. During the first start you'll have to sign up using a Microsoft Passport (if you use every ISP but MSN) or you'll be guided to subscribe to the Microsoft Network Service Provider (only in the US). Once you've defined the country you live in, in order to get personalized content you'll be asked to indicate if you'd like the 'email' link in the start menu to be replaced by the MSN Explorer client. MSN Explorer uses the Microsoft Internet Explorer 6.0 engine to display web pages so you're sure to experience the most advanced web surfing sessions.
The interface of MSN Explorer has been designed for novice users. The main toolbar displays big colored icons letting users access various features like opening the homepage, reading email, viewing Windows Messenger contacts, display favorites, access MSN Music, etc. The left side bar of MSN Explorer offers links to the 'My Calendar', 'My Stocks', 'My Web Sites', 'My Pictures' web services. The top of the sidebar also displays the weather predictions for the town you've specified. Finally MSN Explorer 6.1 comes with an integrated media player located at the bottom of the left sidebar: it has been designed so you can listen to live music and radio, or view videos without the need to have the Windows Media Player launched separately.
MSN Explorer lets you add your own favorites to a drop down menu just like any browser however there are two specificities. First in the settings of the favorites you can view thumbnails of each webpage that has been book marked. Second, favorites are saved on the MSN server: it means, wherever you are in the world, on every computer, you can access your own favorites through MSN Explorer without the need to rebuild the list. One regret: favorites can't be sort by name in the MSN Explorer menu.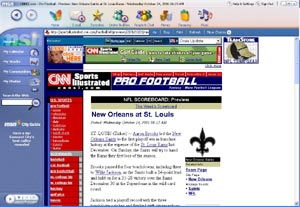 Microsoft MSN Explorer (click to enlarge)
MSN Explorer is the first browser to offer multi-user support. You can create a MSN Explorer account for each member of the family based on a Hotmail or Passport account. Each time you start MSN Explorer a screen lets you select the account you want to use. Each account is represented by a picture: to log on you'll have to type a password. Multiple accounts available for a web browser means your wife will find only her bookmarked shopping sites in the favorites menu, only you will be able to chat with your Windows Messenger buddies or view stock information, and while kids won't be able to mess up your favorites or planned appointments. Each member of the family can have through a MSN Explorer dedicated account his own mailbox.
Instead of using Outlook Express, MSN Explorer comes with an integrated e-mail client that uses a beautiful HTML interface to display the messages you've received and let's you reply or send your own messages. When I first saw this e-mail module I remained speechless. Not that the features offered by it are impressive but it is certainly the most easy to use email program ever created. One drawback, however, is that you can't read or compose emails offline. When typing e-mail the software offers an integrated spell checker (if you have Works or Word installed) so you're sure to send error free messages! Just like in Word incorrectly typed words are underlined in red.
If you look at the Status of a Network card, by double clicking on it, when it is connected to the network, XP allows you to do certain tests that were only available from the command prompt. One example of this is the Renew option. This command line switch was used alongside ipconfig to release a DHCP address and renew it. This is now available on the support tab of the network connection. The advanced button displays all of the information about your connection, comparable to typing ipconfig /all from a command prompt. A new intriguing troubleshoot button appears in the network connection dialog box. If you select this option, XP will open up the Help feature and display everything about your network connections.