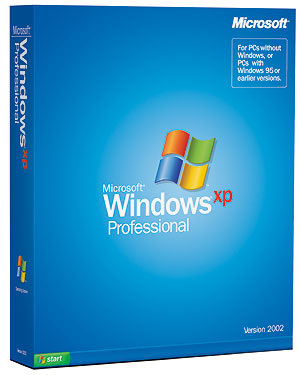 System Tools
Windows XP comes with various native system tools that were designed to perform every maintenance operation a computer requires. We'll first see the basic system tools included in XP. Microsoft Windows XP includes the famous ScanDisk program to make sure your media (floppies, hard disks to ZIP or JAZ) are error free. If there are ever errors: missing clusters, bad sectors, etc. scandisk will do its best to fix them.
If you incorrectly shut down your computer (because of a crash, a power failure, or anything else) when you' restart the system a complete analysis of your hard disk(s) will be launched (if you're in a hurry you can choose to postpone it hitting a key). From the console you can run the ancestor of scandisk, checkdisk typing the chkdsk command. As everybody knows having a properly defragmented hard disk is vital to get optimal performance. Windows XP comes with a build-in disk defragmenter, powered by diskkeeper, to realign clusters to get the fastest disk access rates. The defragmenter is obviously powerful and correctly does its job but it remains clearly slow in comparison to the excellent Norton SpeedDisk 2002.
Microsoft is apparently worried about your hard disk, so a hard disk cleaner is included (like in Windows 98). This application offers a few quick steps to retrieve some space on your disk like: removing downloaded programs, removing temporary internet files, removing offline synchronized pages, removing temporary files, removing PC Health temporary files, emptying the recycle bin, deleting the system restore archive sets, etc. You just have to select the stuff you want to remove and click the 'OK' button so you hard disk will remain clean.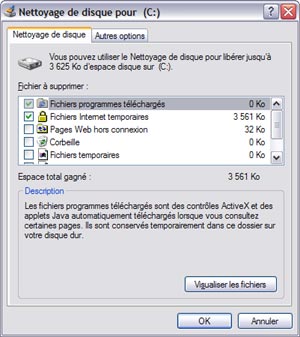 Disk Cleanup (click to enlarge)
Like Windows Me, Windows XP comes with the system restore utility. This application takes photos of your system at various times so you can revert to the state your system was just before it totally crashed. To do so the System Restore applet automatically creates in the background a backup of your system that'll be stored in a hidden folder of your hard disk. Each backup set is assigned to what Microsoft calls a check point. You can also choose to create checkpoints yourself to make sure the installation of new drivers won't screw up the system. Restoring your PC to a previous state is easy: from the system restore application you just have to choose a date where a checkpoint has been generated and let the computer works. However the system restore feature is far from being perfect since for example you cannot recover erased files.
Microsoft Windows XP comes with a small but efficient backup utility. In fact it's barely the same that Windows 2000 contains but it has been somewhat enhanced. You can program it through a wizard to save the my documents folder and your settings, or the my documents folders and settings of every user, or the contents of your hard disk to a backup unit. Backup units can be: floppy disk, zip, jaz, peerless, hard disks, tape units and much more. You can choose to schedule backup operations so they can be done at regular intervals without your intervention. This backup software has been licensed by Veritas to Microsoft and can also be used without the wizard for complete access to the various powerful settings.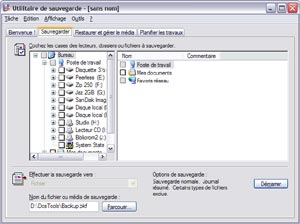 Microsoft Windows XP BackUp Utility (click to enlarge)
When connected to the Internet Windows XP will regularly check in the background if any new updates are available for your system. This automatic process that only takes place with the user's permission automatically downloads critical and security updates. If ever the computer is disconnected while an update is being retrieved the update automatically resumes upon reconnection. Once the update has been downloaded the user can choose to install it.
Communication Tools
Windows XP comes with several communication utilities to help you communicate better in our virtual world. Windows XP professional comes with a complete fax solution. When enabled, Microsoft Fax can automatically receive incoming faxes; sure you can opt to manually receive faxes so when the line rings a dialog box appears asking you if the call should be treated as a fax. Faxes are stored in a console and are previewed through the new Microsoft image and fax viewer. You can choose to print faxes as well. Microsoft Fax obviously comes with a fax driver so you can fax any documents directly from the applications they come from.
The fax wizard will ask you to enter the number of the receiver and you'll be asked to choose a cover page (or not) before defining the priority level of the transmission. When a fax is being sent a window will appears on your desktop letting you know the exact status of the upload. During our tests we have noticed one major drawback: when sending a fax fails (if the line is busy) there's no way to immediately resend this fax. You have to wait until the fax console decides itself to resend the fax (generally it takes up to 10 minutes).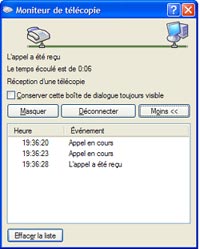 Windows XP Fax Feature (click to enlarge)
The well known Hyperterminal applet is bundled with the operating system so you can connect to BBS or other terminal services. French version of Windows XP still support Minitel services through the Hyperterminal.