DirectX
ActiveMac
Downloads
Forums
Interviews
News
MS Games & Hardware
Reviews
Support Center
Windows 2000
Windows Me
Windows Server 2003
Windows Vista
Windows XP



News Centers
Windows/Microsoft
DVD
Apple/Mac
Xbox
News Search



ActiveXBox
Xbox News
Box Shots
Inside The Xbox
Released Titles
Announced Titles
Screenshots/Videos
History Of The Xbox
Links
Forum
FAQ



Windows XP
Introduction
System Requirements
Home Features
Pro Features
Upgrade Checklists
History
FAQ
Links
TopTechTips



FAQ's
Windows Vista
Windows 98/98 SE
Windows 2000
Windows Me
Windows Server 2002
Windows "Whistler" XP
Windows CE
Internet Explorer 6
Internet Explorer 5
Xbox
Xbox 360
DirectX
DVD's



TopTechTips
Registry Tips
Windows 95/98
Windows 2000
Internet Explorer 5
Program Tips
Easter Eggs
Hardware
DVD



ActiveDVD
DVD News
DVD Forum
Glossary
Tips
Articles
Reviews
News Archive
Links
Drivers



Latest Reviews
Xbox/Games
Fallout 3

Applications
Windows Server 2008 R2
Windows 7

Hardware
iPod Touch 32GB



Latest Interviews
Steve Ballmer
Jim Allchin



Site News/Info
About This Site
Affiliates
Contact Us
Default Home Page
Link To Us
Links

News Archive
Site Search
Awards



Credits
©1997-2012, Active Network, Inc. All Rights Reserved.
Please click here for full terms of use and restrictions or read our Light Tower Privacy Statement.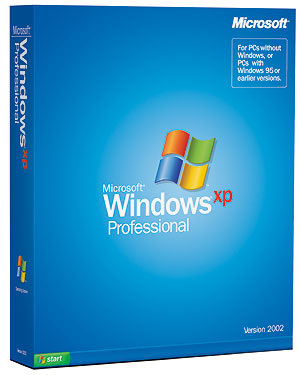 User Accounts
Windows XP has been conceived to be used by multiple users. The concept is that on a single machine each user will return with, once logged in, the usual working environment, desktop, shortcuts, e-mails, favorites, etc. Obviously the super user (well the administrator) can limit access to certain programs or features of the operating system.
Each account has to be created by the administrator that grants privileges: so each member of your family will be able to use the computer without messing others' stuff. The new thing with Windows XP is the metaphor used by user's accounts since not only they display the name of the users but they can also display a picture representing the user: several funny pictures are provided with Windows XP but you can still choose to replace those pictures with one of your choice.
User switching has never been so easy! A simple click on the 'log off' button of the start menu will let you close the current session or switch a user. Windows XP supports the ability to have multiple users logged on to a system without having to log off and log back on. How is this practical? Well, think of this, someone walks away from their computer for a while and you need to get to your information. In previous versions of Windows, you would have to log off, then log back on as your username. This would cause the existing user to lose all of his or her unsaved information. Now you can switch to your user profile, check your email, and when the other user comes back, they can simply switch back to their profile and continue working on what they were doing before you came along. There's also another way to switch users: by default when you resume from the screensaver the Windows XP logon screen will be displayed letting you switch users.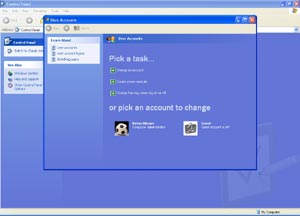 Windows XP Users Accounts (click to enlarge)
Help System
Microsoft Windows XP Professional is the first Microsoft operating system to come with a cleverly and well documented help system. Windows Me came with the PCHealth applet (renamed to Help & Support Center). PC Health was a premise of the new help system included in Windows XP. Users of Windows 3.1, 95, 98, 98SE, NT 4.0, 2000 have always been repelled by the bundled help system. In fact if you ask them what they think about the Windows help system they'll probably answer they find answers for everything in it apart from the problem they are trying to troubleshoot. Things started to change with Windows Me, but with Windows XP the help system reaches a new level.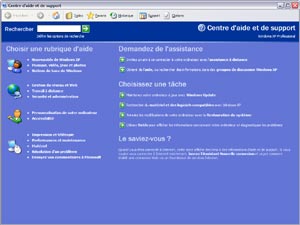 Microsoft Windows XP Help & Support Center (click to enlarge)
First when you start the Windows XP Help & Support Center, you'll be surely mesmerized by the nice window that'll be displayed with high resolution icons. This welcome panel is divided in several areas. The main toolbar contains various buttons to reach the index, favorites, display the options, and navigate between pages using the previous and next buttons. Just below the toolbar is a text label where you can type a question to get help. The left panel of the window displays various areas of Windows where you can get help or tutorials, for example: the new features of Windows XP; music, video, games, photos; basic Windows notions, etc.
The right area of the window shows a first group of links to access support options so you can invite a friend for a remote assistance session, or get help live from a Microsoft technical specialist (from the Internet). The second group of links is the place to launch various maintenance operations: update the system through Windows Update, get information on software or hardware that are compatible with Windows XP, undo changes that were made to the PC using System Restore, use the various native tools of Windows XP to diagnose problems and solve them. Finally the bottom area of the welcome screen shows a 'Do you know' heading where the latest information coming from the Internet support website of Microsoft are displayed.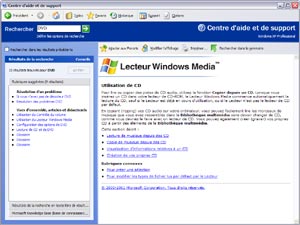 Microsoft Windows XP Help & Support Center Help Topic (click to enlarge)
To get an answer, you have to type a word in the search area or label your question in full text like you would do in normal life. After you've formulated your question or query, the search engine of Windows XP will display in a column located in the left side of the window the topics that match your request so you'll be able to click them to view their contents in the right area of the program. But that's not all! The column where answers are listed is divided in three areas: suggested answers (the answers that most likely correspond to your search), free text research results and the Microsoft knowledge base. Each help article can be bookmarked or printed. The coolest thing is that words that were in your search request are highlighted in the help articles that are shown so you can better spot the area of the article that interests you.