Adding system memory (RAM) is often the best way to improve your PC's performance. More memory means applications can run without needing to access the hard drive. However, upgrading memory is not always easy. You need to know what type of memory you need, purchase the memory, and open your computer to install the memory—which sometimes can invalidate your support agreement. Also, some machines have limited memory expansion capabilities, preventing you from adding RAM even if you are willing to do so.
Windows Vista introduces a new concept in adding memory to a system. Windows ReadyBoost lets users use a removable flash memory device, such as a USB thumb drive, to improve system performance without opening the box. Windows ReadyBoost can improve system performance because it can retrieve data kept on the flash memory more quickly than it can retrieve data kept on the hard disk, decreasing the time you need to wait for your PC to respond. Combined with SuperFetch technology, this can help drive impressive improvements in system responsiveness.
Windows ReadyBoost technology is reliable and provides protection of the data stored on your device. You can remove the memory device at any time without any loss of data or negative impact to the system; however, if you remove the device, your performance returns to the level you experienced without the device. Additionally, data on the removable memory device is encrypted to help prevent inappropriate access to data when the device is removed.
We have been running a number of Windows ReadyBoost tests on various USB Drive Sticks that have come out recently. Not only do we have a list of those that work, and those that don't! We have also started to go in-depth with some of them. ReadyBoost is designed to improve small random I/O for people who lack the expansion slots, money, and or technical expertise to add additional RAM. This isn't a replacement for RAM upgrades; it's simply the chance to speed up your Vista machine very, very slightly and very easily.
This "Review" is a work in progress as we are sent in more and more USB sticks to test out on Windows Vista and one of the main things to say is that you should not expect to notice much difference on a good machine with decent memory. ReadyBoost in our tests, doesn't show a great speed increase across any part of the OS other than picture loading and boot up times it seems from our testing, in some cases programs have actually run slower with ReadyBoost enabled than without, this is mostly when used with programs that have lots of files that need to be loaded (Dreamweaver and iTunes for example).
Firstly we have:
SanDisk U3 Cruzer Micro USB - 4 Gigabytes

This was the first device we came across that could access the "ReadyBoost" feature in Windows Vista. It worked right away, Vista took around 3.8GB of space on the device to use for caching and there was a noticeable difference in speed with some apps like Photoshop and other programs that cache items. This was an excellent little item to add to Windows Vista, it was easy to setup (just plug it in and select the option to speed up your computer) and it isn't overly expensive for a drive its size. Also an annoyance with this device is the U3 software it comes with, Vista doesn't work with it so you get an error when you first plug the device in. I also had experiences where the ReadyBoost cache would not create itself after rebooting on the odd occasion.

Writing to the Readyboost cache was pretty quick, but not as quick as on the Apacer, when viewing photos and loading up from boot as can be seen from these test results.

Booting into Vista (Without Readyboost):
Attempt 1: 1:10
Attempt 2: 1:12

Booting into Vista (using Readyboost):
Attempt 1: 1:05
Attempt 2: 1:03

Outlook 2007, using a 1000 meg PST file (Without Readyboost):
Attempt 1: 8,35 sec
Attempt 2: 3,2 sec

Outlook 2007, using a 1000 meg PST file (using Readyboost):
Attempt 1: 7,95 sec
Attempt 2: 3,2 sec

iTunes (Without Readyboost):
Attempt 1: 9,40 sec
Attempt 2: 4,93 sec

iTunes (using Readyboost):
Attempt 1: 12,5 sec
Attempt 2: 4,9 sec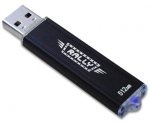 OCZ Technology – Rally 2 – 2 Gigabytes
This one surprised me, the OCZ Rally 2 is supposed to be quite a high speed USB 2 flash drive, unfortunately it was not fast enough for Windows Vista as it failed the ReadyBoost tests so we couldn't even try it out in our review. This may be because it runs fast at first thanks to a cache, but can't maintain the speed needed for a good ReadyBoost experience.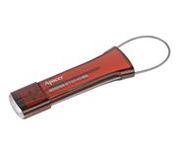 Apacer - Handy Steno HT203 - 2 GB
Without a doubt, the USB stick in these tests which has impressed me the most is the Apacer Handy Steno. While the packaging talks about it being a 200x speed stick, I am pleased to say that Apacer are not kidding about how fast this little piece of kit is, its really, really fast and is perfect for Windows Vista ReadyBoost. The HT203 has a sticker that mentions the stick is "Enhanced for Windows ReadyBoost" what this means I'm not sure, but it is the stick that has performed the best across all of my ReadyBoost tests. The great thing is that the Handy Steno is excellent not just as ReadyBoost device, but also as a plain USB stick.
The Apacer stick is the winner out of the 3 sticks we have tried out so far, both in performance and in cost. While it may seem strange that a smaller sized stick has come out on top when compared to the SanDisk one, it seems like the massive speed made the difference. We hope to test out a 4GB stick from Apacer very soon.
Booting into Vista (Without Readyboost):
Attempt 1: 1:10
Attempt 2: 1:12

Booting into Vista (using Readyboost):
Attempt 1: 1:03
Attempt 2: 1:02
Outlook 2007, using a 1000 meg PST file (Without Readyboost):
Attempt 1: 7,35 sec
Attempt 2: 3,2 sec

Outlook 2007, using a 1000 meg PST file (using Readyboost):
Attempt 1: 6,95 sec
Attempt 2: 3,2 sec
iTunes (Without Readyboost):
Attempt 1: 9,40 sec
Attempt 2: 4,93 sec

iTunes (using Readyboost):
Attempt 1: 11,8 sec
Attempt 2: 4,9 sec

Drives that work on Vista
The Following are ReadyBoost compatible on Windows Vista RTM. Remember this is not a complete list as there are so many USB 2.0 drives out there that it is impossible for us to test them all. If you have any additional USB Flash Drives that are compatible with Windows Vista's ReadyBoost, please e-mail into us and we will add them to this list. ReadyBoost compatible devices must have do 2.5MB/sec throughput for 4K random reads and 1.75MB/sec throughput for 512K random writes, if they don't they won't qualify.
Apacer Handy Steno 2GB

SanDisk Cruzer Mini 256MB

Kingston DataTraveler ELITE

Crucial Gizmo!Overdrive

SanDisk Cruzer Micro (U3) 2GB

Sony MicroVault 512MB

Lexar Secure 1GB

SanDisk Cruzer mini 256MB

SanDisk Cruzer Micro 1GB

Crucial Gizmo 256MB

SanDisk Cruzer Mini 1GB

Apacer HT203 1GB

ATP Petito 1GB

Sony MicroVault 256MB

Kingston Data Traveler 1 1GB

Sony MicroVault Tiny 2GB

Patriot Xporter XT 4GB

SanDisk Ultra II CompactFlash 2GB
Best for Price:

Apacer Handy Steno HT2003

Best for Price against Performance: Apacer Handy Steno HT2003

Best overall performance: Apacer Handy Steno HT2003

Files & Settings Transfer Wizard

Now called Windows Easy Transfer in Vista provides a plethora of options for moving over your Files and Folders, Windows Settings, User Accounts, Internet Settings, Emails and Media from an old computer running either Windows 2000 or XP to a new computer running Vista. Basically, the old computer has to have a copy of the Easy Transfer wizard software installed, which allows you to create a trust between both PC's by creating a password key which you then enter on the old computer, the wizard will then ask you to identify which computer you are on, whether it's the Old or New PC, after this is done, the wizard automatically handles the entire transfer process. The time it takes to move over your files varies depending on the amount of data stored on the old PC; on my old PC it took nearly 2 hours for it to complete the entire process. The array of transfer options include, using your Ethernet, CD/DVD or External hard disk. The new Windows Easy Transfer USB Cable is a specially designed for this procedure, it automatically launches the wizard when plugged into both PCs and effortlessly does all the necessary transfer of data from your old PC. Starting in early 2007, Microsoft will release a beta version of the recently acquired Aloha Bob software now renamed Windows Easy Transfer Companion which will make it easy to migrate applications from an older computer.